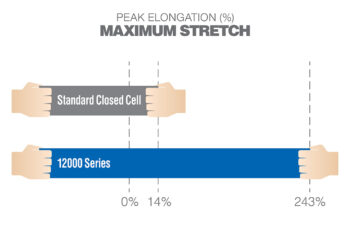 12000 series
THE MOST FORGIVING PRODUCT AVAILABLE TODAY FOR
CHALLENGING JOBS WHERE CRUSH IS A CONCERN.
Closed cell rubber is made up of…well…closed cells or in other words, bubbles. When on a die and it compresses through the nip, many of the bubbles or cells pop which causes the rubber to shrink in height.
Our new 12000 Series elastomer has more than 17 times the elasticity of standard gray closed cell. This allows for more stretching of the cells which drastically reduces or eliminates the chance for the cells to pop which results in a longer life on the die and more consistency in the ejection force throughout the entire job run.
The best characteristic from the enhanced elasticity with the new 12000 Series is that it allows you to fine tune the proper height and position of the elastomers to minimize or eliminate crush throughout the entire job run.
Monroe's 12000 Series has proven itself to be the best available for the challenges you face with heavily recycled board. If crushing is an issue, this is the product to try.
Want to try it? Request a sample here.
Back to Blog