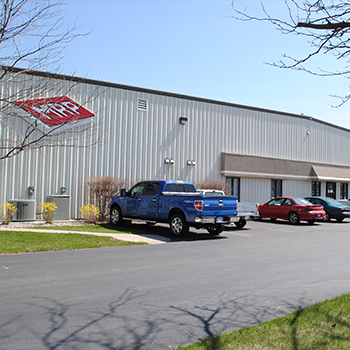 History of Monroe Rubber & Plastic
The Advancements of Monroe Rubber & Plastic Through The Years
Monroe Rubber & Plastic Supply Co. started in business over forty years ago at a time when the original company was an industrial supply house and the owner, Dan Valmassei saw the potential to branch out into another business venture. As a sideline, the company began to purchase rubber from outside sources and die cut it into shapes in the back of the warehouse. The cut shapes were used as an ejection material and sold to die makers in the packaging industry. The business expanded until we were forced to erect a new facility in 1993. The new manufacturing facility was named Monroe Rubber & Plastic, Inc. and we continue to operate out of that building today. The industrial supply portion of the business was later sold so we could focus all of our efforts on the die ejection side of the business.  
With a primary focus to engineer and manufacture die ejection materials, MRP began developing products specific to the industry's needs. By 1995 the first engineered product, Green G'rilla had entered the market.  The success and knowledge gained from Green G'rilla led to the development of a 2nd product by the late 1990's called Red Rhino.  
MRP began to diversify their manufacturing capabilities and became the first to offer water-jet cut elastomers in 1997 thus allowing us to make custom shapes that decreased the time it took to rubber a die by more than sixty percent. We demonstrated the advantages and cost savings to the die making industry and water-jet cutting became a huge success. We have been operating two water-jet machines since 2002 and provide same day shipment of custom water-jet shapes.
In 2009, we started to investigate ways of becoming less dependent on outside sources and with the assistance of a major chemical supplier we began the process of learning how to manufacture polyurethane elastomers. Eventually, Ray Wensink, in conjunction with Rich Calkins, and the MRP team had gained enough knowledge to risk the purchase of our own casting equipment. In August 2010, we became a manufacturer rather than just a re-seller. By manufacturing our own products, we could constantly monitor the process to improve quality and consistency. With the new equipment in-house, MRP now has the ability to develop additional elastomers with a broader range of densities and colors to meet the industries increasing demands of higher speed die cutting equipment and ever-changing recycled board content.
Along the way to developing new products and the need for extensive testing, we discovered that the use of a durometer gauge to measure surface tension was not very effective in determining the usefulness of a particular product in specific areas of the die. With this new knowledge, we began to focus our efforts on the compression/deflection of the material and published a "Functional Range of Motion Chart". This chart is now currently used by die makers to determine the elastomer best suited to perform in a specific area on the die. This allows the die maker to provide the correct ejection force for today's high-speed presses with the most cost-effective materials. The chart can be found on our website link-goes-here.
As the MRP manufactured products continued to grow in sales, the demand for off-the-shelf products was significantly reduced. In early 2012, two of our major suppliers started to see us as a competitor rather than a distributor and refused to sell to us. As you can imagine there were many sleepless nights for the MRP management team. In the end, it turned out to be a blessing in disguise because our customers ended up purchasing more of our new products. The consistency in quality and the wide variety of product choices and colors is what drove these new sales.
One challenge that MRP faced was when we formulated our 22000 product. This was developed as a replacement for the gray EPDM that has been used by rotary die makers for more than 40 years. The problem was that EPDM takes a compression set (when it is compressed multiple times on the die it doesn't return to its original height). The new 22000 series product did not take a compression set and was therefore crushing heavily recycled corrugated board when it was run through the press. This problem forced us to develop our 12000 series "No Crush" product. This has become highly successful in replacing EPDM as well as our own 22000 series in the product areas of a die used for recycled board. The use of 22000 in the scrap area and 12000 in the product area is a very cost-effective way to rubber a rotary die.
The company continued to evolve in a variety of ways, by 2012 the private owner had retired and began transitioning the company to an employee-owned company thru sales of stock under an ESOP program. In 2016, the employees had managed to purchase all shares of the company from the private owner and became a 100% employee-owned company now led by a board of directors.
On the manufacturing side of the business, MRP continued to add equipment to process their engineered materials that were developed specifically for the industry. In April 2014, we purchased a new vacuum table skiver in order to provide a more consistent product thickness with the MRP cast elastomers. The machine was installed in our facility in October 2014, and has proven to be a great addition to our business.  The most recent purchase in 2017 includes an Atom 3015s flash cutter which increases daily product output and allows for same day shipping.
Our customers continually challenge us to create new and improved products for die ejection. It is through continual testing, the use of advanced chemistry, and equipment upgrades that have enabled us to satisfy their needs. Monroe Rubber & Plastic, Inc. has only one focus: Engineering, manufacturing and supplying die ejection materials. No one else can say that.
Revision date: Dec. 2017
Back to Blog